The taxation of spanish property - from buying to selling including current taxation
For the Lower Saxony Tax Association we held in September 2013 together with Prof. Kaminski a lecture on important questions of real estate taxation and other civil legal issues when purchasing real estate in Spain. Partners of our law firm have argued current topics, such as: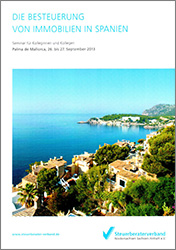 The gaps in the Spanish Land Registry Law
Tips for property purchases
Risks on problem assets and money laundering in Spain
Automatic exchange of information
Extensive documents were created for this lecture, which have since appeared in a publication. Below we indicate the main parts of the working documents. It is a highly topical and compact guide that sets new standards for its depth and extensive insight.
Click here to download the PDF booklet on Taxation of real estate in Spain.
Print page